SHOP
Welcome to our new online shop. We ship worldwide (shipping will be calculated when you check out). Payment is accepted through Paypal. You can pay with a credit card even if you don't have a Paypal account. Please contact us for support or pre-sales questions.
E520 Hyperion Stereo Audio Effects Processor Final Pre-Order ($659 plus $35USA shipping, $70 foreign).
Shipping in USA: UPS insured, Shipping overseas: DHL insured
This is a limited pre-order of 30 units (20 black, 10 silver) and will end when either sold out, or shipments to dealers degin in mid-Nov.
The E520 Hyperion is a 48HP wide Euro stereo effects processor. Using a 480MHz ARM processor and 64MB of SDRAM, the E520 offers effects in both the time-domain (delays/chorus/flangers/frequency shifters) and the spectral/frequency-domain (chromatic pitch shifting, spectral 'freezing', and others). Each effect has 4 assignable CVs, feedback, wet/dry mixing and a Bypass.
Please read these terms and conditions CAREFULLY before placing your order.
The module will ship when the previously ordered modules ship. Estimated shipment will be in late Nov.
The shipping name and address on the PayPal form will be used. If you move after the order is placed, or wish a different ship-to location, please email me (link on page)
You WILL NOT receive a confirmation email other than the standard PayPal notification.
Foreign orders MUST have a phone number for customs. Please be sure your PayPal profile has a phone number BEFORE ORDERING.
You are resposible for any duty or VAT, and I will declare $659 value. DO NOT ASK ME to declare a lower value.
---
Please note: you will receive a single email, from the PayPal site, that your order is accepted. You will NOT receive anything from this site. You can always email if you are unsure.
-->
---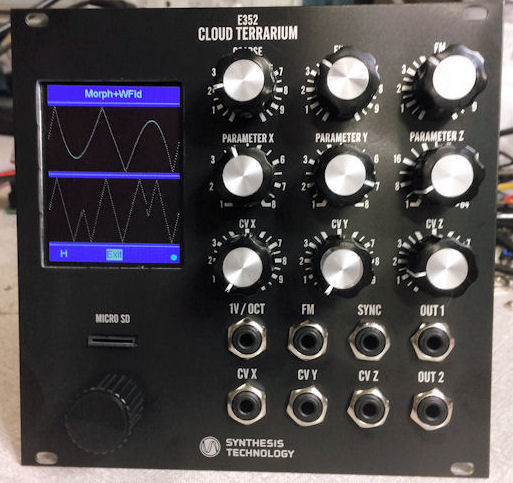 E352 (Black Panel version)
Size: 26HP, 37mm (1.46in) depth behind panel.
The currect wait time is stock to 2 weeks.
Black panel version of the E352 Cloud Terrarium, available only from Synthesis Technology. If you prefer a plain aluminum panel, you can purchase through one of our Dealers instead.
$469 plus postage. The postage will be calculated when you put in your address.
Please note: you will receive a single email, from the PayPal site, that your order is accepted.
---